Gothic Prayer Messenger Bag (Anne Stokes)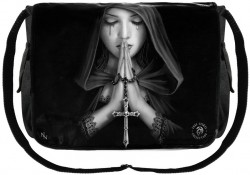 Click on Images to Enlarge.
Gift Wrapping service available on this product
£19.95 (Inc. VAT)
RRP £24.99 - You Save £5.04 (20.17%)
Sorry, this item is currently out of stock. Please contact us for details.
Delivery Time 1-2 Working Days
Delivery £2.95 for this item (Inc. VAT), or FREE if you spend over £40.

Artwork by Anne Stokes.
Lots of internal space.
Cotton Bag with artwork printed on a leatherette cover. All messenger bags have 5 pockets and a zip sealed inner compartment with adjustable shoulder strap.
Max strap length: 125 cm.
Bag width = 40 cm tall (16 inches). Height: 27 cm.
Quick and Easy.
Ask us a question about this product.
View Printer-Friendly Version
Email this product page to a friend.